A most relaxing day of work
Super Admin

|

November 20, 2015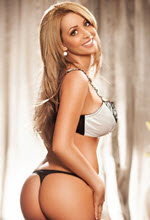 Being a London escort is not always fun, especially if you're working for an agency and get all types of surprise clients at the most unfortunate moments. Well, I'm always in the mood, but who can blame me for it … not that my clients had any chance to notice. But, just like with any other jobs, not all days are bad, and some days and dates turn out to be quite surprising.
I met my client at his hotel and, after a couple of hours spent knowing each other a bit better, we left his room in a pretty light mood. Searching for what to do, he asked me if I ever tried a luxury spa.
Of course I had my days in spa-s, as I'm a London agency escort, after all, but I've never been in a really high-end place before
. So I said yes so quickly he started laughing at it, amused at how easily a girl is swayed when it comes to beauty treatments. So off we went into the day, and spent some wonderful hours as a couple at a really high-end spa in central London. We laughed a lot and generally had a good time, so I ended up spending the whole weekend with him. And the bonus? I ended up more relaxed after this weekend then I was before getting booked in for the client.