Super Admin

|

March 7, 2016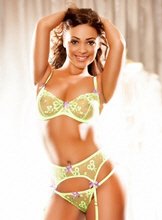 Working as a London escort has always seemed to me like something special, a way for me to meet people and create really strong bonds with some of them. One of my clients, who also became a very dear friend during the years we've been seeing each other, is one of these very special people to me. Year after year, he is inviting me to a business dinner he's organizing. As he put it, it helps him keep in a more personal touch with his business partners and, besides having a good time, they always come up with some new ideas to move ahead their businesses in the upcoming year.
As a high class escort, I always do my best to be as presentable as possible, especially given this long relationship with this client. I made sure to arrive a bit earlier than usual as to give him a good luck kiss and generally make sure he will start the evening on a very high note. The tight, form-fitting blue dress I choose for this occasion was simply superb if I may say so, a furtive glance from some of the male guests confirming it even more. It always amuses me to see how men still think they can get away with a longing look at my bust or bum without me noticing. But then, I know exactly what men like in me, especially when they catch me working as an escort.
The dinner was a success, as usual, and my client had a good laugh at one point when one of the new members on his guest lists asked him if he would mind taking his partner for a dance. He winked at me as I made my way to the dance floor and later that night told me how he peeled off the dress with his eyes while I kept his guest company. I made it up for him by making it one of the hottest nights we ever had together.