Super Admin

|

May 13, 2014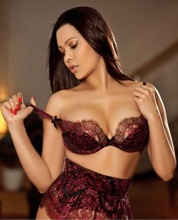 As an escort, I can honestly say that I can never get enough of living and working in London. I've worked all over the world, from New York to Dubai, and they are individual and special cities in their own way. But if I had to choose one place I loved the most, it would have to be working for the London escort agencies.
There's something so special about the cool, laid-back atmosphere, the diverse range of people and the ease with which I can travel to each of the very different parts of London. All these things combine to make London my favourite place in the world.
I'll let you in on a secret. Along with a lot of other
London escorts
, my general rule on a date is to 'go commando'. The guys seem to love it when they know there's nothing but skin underneath my sexy dress.
However, I loved the 'cool britannia' thing so much, that I commissioned a whole range of sexy, union jack themed lingerie for myself – bras, thongs, teddies, briefs and basques.
Some of it is slightly see through for a sensual tease, some of it is downright cheeky and peek-a-boo! And it's all very teeny tiny and barely covers my voluptuous assets!
I wasn't sure what my gentlemen friends would think of my patriotic obsession but as soon as I strip down to my union jack skimpies, they definitely make the evening go with a bang!