My favourite type of gift
Super Admin

|

December 15, 2015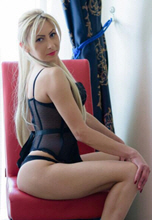 With Christmas getting closer by the day, people are invading the gift shops and other establishments in their frantic search for the perfect gift for their loved ones. Being a London agency escort I'm no better, especially since, besides friends and family, I also have a most generous group of people who would often show up at our meetings with a small gift for me. Don't get me wrong, I love shopping and searching for those special little things that will make my friends and family happy.
This year I also decided to be a bit more selfish – even if this period of time is about the opposite, about thinking of others instead of me – and surprise myself with some fine lingerie from one of the greatest shops in London. I can't tell you the shop's name, but I will let it drop that it's in Soho, near the Oxford Circus tube.
Usually ladies do like to dress up, and not only for special occasions; but for agency escorts it is an "occupational hazard" if you like
. We must look great for our meetings, after all, and I especially like to make my clients feel at every appointment like they are unwrapping a gift made for them. Don't laugh – this is not one of those wraps that won't come off easily and you have to tear it off, but one that leaves some to the eyes, and some to the imagination.
It is a wrap made of expensive and exotic silk and the finest materials, one that makes a woman's body even more desirable. Should we meet, however, I won't let you tear it off, but I will make you unwrap your present slowly, button by button engaging your imagination, until there's nothing left but the naked beauty of my gift to you. And believe me when I say this, you will like the mistery and will be very pleasantly surprised by the gifts under the wrapper.