The dinner date of the year
Super Admin

|

August 27, 2015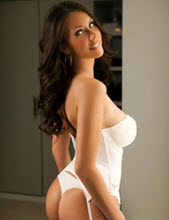 Last week I had a surprise booking from one of my regular clients. Almost every time he visits London – usually on business – he makes a booking for a couple of hours, rarely an overnight stay, as he says being with me is relaxing and helps him unwind and forget about the stresses of making those hard business decisions every day. I guess he likes me as well (not just my body) as lately we've been talking a lot and often taking some long walks on London's streets.
So, last Thursday I got this surprise call from him telling me he's in town and he'd like to book me for a dinner in the weekend.
As a London independent escort, I sometimes have bookings in advance
, so he wanted to be sure I'de be available for Saturday night. Knowing who I'm dealing with, of course I said yes. On Saturday I prepared a bit more than usual before he picked me up. Got on some sexy lingerie, made sure my make-up and appearance in general was impeccable and I chose a dress that didn't reveal too much – as to not attract too many prying eyes – but still gave some clues for those with a vivid imagination. Of course, most people like me dressed in a more sexy outfit, but I know my client and I know he preferred discretion - at least at the dinner table.