Super Admin

|

December 5, 2014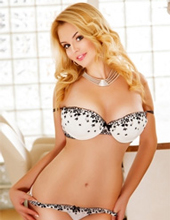 One of those days when you are particularly horny, I kiss you as soon as you come to the door. The kiss gets longer and deeper, with each of us groping each other as we move towards the bed. I know what gets you on and slowly start to tease you.
Your lovely limbs, I tie them above you head and watch you get hotter by the minute. I know that now you are at my mercy. I slowly seduce you with my dirty talk, my seductive movement. I get you to the point where you beg to move things forward. But you are under my control and I will have you begging for more. Usually, I would only tie your hands. But today, I'm feeling extra kinky. So, I tie your ankles to the posts at the foot of the bed. So there you are - completely naked and spread eagle. Your hands want to touch my wet pussy, but I go rub them myself. I stand right next to the bed and caress the body with both my hands. Fingers stroking and fondling my womanhood. By now you will be frustrated beyond belief.
But I am the mistress, a high class London independent escort, and I get to do as I please
. I get to come first. I bring you close, move faster each time and slow down the pace. Repeating this over and over again. I come first and it feels good to finally let you have your release.
I'll keep the ropes ready for the next time.